10 Feb

Posted By
0 Comment(s)
1940 View(s)
Load Data
Load data can be found on the powder manufacturer's web sites listed below.
These links open new windows on their respective web sites.
Click the logos to see the load data.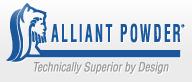 (Includes data for the following powder brands.)

ACCURATE
BLACKHORN

HODGDON
IMR

RAMSHOT

WINCHESTER
Cartridge specifications can be found in the SAAMI Cartridge & Chamber Drawings.